This is what others have to say about the You Can Make It Program.
"A Successful… Training Specialist" Sew News Magazine March 1996
Who is talking about YOU CAN MAKE IT?
Notions, Spring 2014 – a publication of the American Sewing Guild.
Ms.Charm's Chic, February 2014 (To read the article as a pdf, Click Here or to view the article online, Click Here)
Vogue Pattern Magazine Feb/March 2011
ASG Notions Winter 2010
SEW it ALL, Dec./Jan 2010- Premiere Issue
American Quilt Retailer, May 2009 (To read the article, Click Here)
Vogue Patterns, April/May 2009
Sew News, Feb/March 2009
Sew News, March 2008
ASG Notions Summer 2007
HSA Connections, May 2007
Sewing Today, Summer 2007
Sew News, November 2006 – Sew What's New (To read the review, Click Here)
Weekend Entrepreneur, 101 Great Ways to Earn Extra Cash, by Michelle Anton and Jennifer Basye Sander – published 2006
Butterick Home Catalog, Summer 2005
Home Sewing Association – sewing.org, Jan. 2004
Sewing & Embroidery Professional, August 2003
Butterick Home Catalog, Winter/Holiday 2002
Sew News, Oct. 2002
Vogue Patterns, Jan./Feb. 2002
Round Bobbin/SDTA, Sewing Professional, Nov. 2001
Round Bobbin/SDTA, Sewing Professional, Aug. 2001
The Creative Machine, Spring 2001
Dr. Laura Perspective, June 2001
Moms Online – Week of October 17, 2000
Featured on Sew New's May 10, 2000 celebrity chat. All Star Review – Feb. 2000
Sew News Online Antics – Dec. 1999
Hemming Away – For Wild Women Who Sew – Nov./Dec. 1999
Butterick Home Catalog, Winter/Holiday 1999
Teen Magazine – September 1999
Hemming Away – For Wild Women Who Sew – August 1999
Sew News Magazine August 1999
Butterick Home Catalog, Spring 1999
G Street Fabrics, February 1999 Monthly Portfolio
Award winning The National Mail Order Association has chosen YOU CAN MAKE IT as one of the Top Five Hundred Winners for the Most Unique & Interesting Products in America for the year of 1998.
Butterick Home Catalog, Winter/Holiday 1998
McCalls Patterns, Winter 1998/99
Butterick Home Catalog, Fall 1998
McCalls Patterns, Fall 1998
American Sewing Guild Notions, Spring/Summer 1998
What's New, May/June 1998
Butterick Home Catalog, Winter/Holiday 1997
American Sewing Guild Notions, April 1996
Sew News Magazine, March 1996 *Cover Story*
Sew News Magazine, October 1995
American Sewing Guild Notions, July 1995
Student Comments
"You left nothing out, you are detailed and comprehensive. I want to learn it all so I can become one of your teachers." ; Peggy, NY
"Your teachers are the best! I've been sewing all my life, & I still learned so much! I recommend your method to everyone." ; Ann, TX
"The last time I learned how to sew was in high school, now I know how to sew. Thanks to my You Can Make It sewing teacher," ; Cindy, FL
"Just wanted to let you know that I Made It', and Thank You. You sure made it easy for me to learn a skill I wanted. With limited suppliers near me, you gave me all the answers." ; Lynn, PA
Teacher Comments
"Thank you, I am in love with your program. I have used another program for kids and get so frustrated with it that I am always hand drafting patterns and crossing things out of their books and pasting my things in. I opened my package and said YES, teach them about fabrics, teach them skills, why they are doing things, what things they have to do and where they can venture off with their creativity. I am really happy with your program and looking forward to exploring it some more." Pamela, WA
"Thank you so much! My package arrived and not only was I surprised at the size, but also the quality of the materials inside. I fully expected the content to be outstanding, which it is, but the binders, page protectors etc, we are all of the highest quality. Thank you for not skimping on materials. After watching the first DVD, I am eagerly anticipating ordering more DVD's and getting started on my, "you can make it" journey. " ; Sandra, KS
"This program is terrific! I'm happy to be part of it!" ; Ellenmarie, PA
"As a former Home Ec. teacher I think your program is A+" ; Nancy, NY
"I'd like you to know how impressed I am with the professional look of the binders & the thoroughness of content at each Level." ; Sue, CA
"I really like the program. I'm having a lot of fun and meeting really nice ladies." ; Kathy, NC
"I am so grateful that you shared your gift for sewing. I truly enjoy sewing, & teaching has been very rewarding for me. Classes are always full & it is so inspiring to see a student get it' and move onto the next level" ; MaryLou, PA
"I have always loved to sew. And I hope to pass along that love to others. I look forward to a long and happy relationship with You Can Make It. I think it is just the best. I know it will make passing along to others the love of sewing. And I am sure it will enable me to supplement my retirement income for years to come." ; Eleanor, NJ
"Thanks for all your work to make this dream a reality" ; Melva, AK
"Just a note to Thank you for giving me the opportunity to be a You Can Make It Teacher. It is a wonderful program, and I enjoy it as much as my students do." ; Ellen, PA
"I thought I'd like to teach sewing, but now I know I love to teach sewing. Thanks" ; Susie, CA
Video Customers
"You are awesome!I finally figured out how to open the zipped files on my Kindle Fire. I look forward to learning from your videos. I am very happy and excited to learn sewing with you. Once I complete your courses…the sky is the limit! I would love to send you a picture of my first completed project. I am a full-time caregiver for my mom who recently started dialysis. I needed a fun distraction. I came across your Web site. I am a visual learner so your videos are perfect. You courses are affordable and very detailed. Mom and I are going to learn to sew together! Thank you so much for your excellent customer service!" ;Denise, NY
"Wow! Does ??? know about you? If they did, well they would not be happy. Your videos are wonderful! I should have gotten your videos before I went to a ??? basic sewing class. Oh the torment of that class. Now, look at me! In the comfort of my own home and going over all those sewing skills. You are excellent! I had a few "light bulb" moments as I watched you straighten the grain, match pockets, talk about pattern direction. Amazing! I am such an expert! I know! I went to ???, I went to two sewing classes given through sewing stores, and I would learn, but I would forget. It's not like I spend all my time sewing. By the time I got around to making a skirt, I would forget some very important skills and end up with a skirt that was not quite right. Now I can pop in the video and say, "oh yeah" that's how you do it. There is no stopping me now. Thank you. Thank you" ; Anna, AOL
"I'm grateful for the video. I couldn't possibly retain all this information, now I can go back and watch the tape over & over. " ; Patricia, NY
"I'm writing to tell you that I'm very pleased with the Level 1 video, send me my Level 2. I've only sewed by teaching myself and there is so much I don't know. I'm glad you have the videos. They're a big help right now. Thank You" ; Elaine, NJ
I've never sewn before. I'm just learning. Your videos are great. I learned so much in Level One. I like the fact that I am acquiring a new skill. In fact, in my opinion, sewing is a technical art. It is a mechanical skill, and I think of my sewing machine as a woman's "Power Tools". Eventually, I want to be able to design my own creations. My motivation for learning to sew is to make things I cannot find in the stores and express my own individual style and fashion sense. Reviewing the list of skills that are taught in the seven levels of the video series, I have confidence that I will achieve my sewing goals. Thanks again for making these videos available to the public. ; Lorraine, CA
"Last year, I bought levels 1 through 4 of the You Can Make It series. These videos helped me to save hundreds of dollars, not to mention time, while I learned to sew the correct way. My only experience with sewing was through home economics in high school, but I'm now sewing my own evening dresses and furniture covers. I highly recommend it to everybody who wants to learn how to sew." ; R. Estes from TN
"I love to sew, and I am self-taught. I have been unhappy with my sewing because while I know some complicated things, there are easier things that totally evade me, and I am not always sure which procedure to use. These Video's are a joy. They are the answer for me and worth every penny I have spent on them. If you want to learn to sew this is the way." ; Kathleen M. B. from Miles City, Montana
"I have been sewing for many years and felt that I needed to brush up some of my skills and bought the "You can make it" videos. I found the teaching techniques excellent and the video lessons were well staged and I enjoyed them. Congratulations on your good work. Hope to have many more lessons." ; Joy K. W. from Bermuda
"When I purchased the Level 1 tape I knew nothing about sewing, only how to thread the machine which my mother actually did for me. But I really wanted to learn how to sew and this video has helped me so much. I learned how to read a pattern which I had thought was impossible, how to lay out the fabric and cut it, and then there is the sewing which she actually shows you at the machine. I really love this tape. It has started me on the wonderful world of sewing. If you really are a green beginner then this tape is for you. I even completed the skirt and it looks great. Highly recommended. " ; Pat B. from MI
"If you have sewn in the past and want to refresh your skills, I highly recommend this video. I have sewn for years but it was always the same thing. I wanted something different and my children were asking for new things. I called You Can Make It after visiting their website and decided to purchase the Level 2 video. Pam is very thorough in her explanation and takes you step by step through the sewing process. I have sewn several skirts in the past but I learned several new techniques that have already benefited me greatly. She is also there after the sale if you have questions or need clarification on a given topic. I have used the level 1 video with two of my daughters in their home schooling curriculum with great success. This is an excellent series of tapes and I recommend that they be added to your sewing library. Her love of sewing is apparent and her teaching skills are superb!" ; msrobin from Maryland
"If you think that you would like to either learn to sew or improve your sewing the Level 2 video is for you. You will have a very nice skirt when you are done." ; A viewer from Boise, ID
"I purchased the 2nd in the series and it is great! I have watched it twice and so far and I'm beginning to sew a couple of things. I do very much recommend this series to any one wanting to learn to sew. It is FANTASTIC!!!!!!! " ; Stacy L. of WI
Video Reviews
REVIEW by Rose: "LEARN TO SEW"
VIDEO LEARN TO SEW with You Can Make It, Level 3 [Rating: ++++]
Running time: 150 minutes (color)
[Rating key: + fair, ++ good, +++ very good, ++++ excellent]
"Out of six possible levels, I chose the third (how to do facings, collars, sleeves, front closures, ruffles, pockets and sheer fabrics) to review. For me, it was beneficial to watch the entire Level 3 first, then re-watch it with sewing machine and suggested supplies at hand. Pam Tripaldi delivers easy-to follow instructions at a good pace. She offers a list of needed supplies with a time-out break, allowing you to get organized. This step-by-step method is complete in every detail. Pam gives extensive visual and easy-to-understand verbal instructions. Like a good journalist, she explains "why, where, what and when" in the sewing process. Being able to freeze-frame (pause) the video and rewind to review any portion makes it easy to proceed at your own speed.
The mottos "Learn to sew or teach others to sew" and "The You Can Make It program will teach a skill, not just a project" are right on target! I only need to add, with this program you will enjoy sewing and creating at the same time. (Now, I wish I could find more time to sew.) Even if you are an experienced sewer, this will supply great sewing hints. Level 3 is well worth its $36.95 (US) list price and gets our "stamp of approval!"
The six levels are: (1) The basics with no experience needed, pattern layouts, guide sheets, tissues, cutting, marking, sewing, hemming; (2) If some experience, print fabrics, altering skirt patterns, darts, pleats, zippers, waistbands, Velcro, buttons, straps, hooks; (3) Takes sewing to experienced level, facings, collars, sleeves, front closures, ruffles, pockets, sheer fabrics; (4) See how easy advanced techniques can be, easy layouts and matching stripes and plaids, bias tape, altering jumper patterns, piping, stitched elastic; (5) All about pants, how to make and fit them; and NEW (6) scheduled to be available soon."
Synopsis:
You Can Make It – Learn To Sew Level 1. Skills are taught in an appropriate progressive order.
Replay Value:
Information is presented in indexed sections that make it easy to find a section of the tape to review as needed. The handy pamphlet inside will provide you with counter information to help you locate specific sections by a timer.
Educational Value:
The material presented in this video is very appropriate for teaching the beginning steps of sewing.
Graphics:
Video is clear. Shopping lists are included in the literature and on the tape.
Sound:
Voice is clear and easy to understand.
Conclusion:
The ability to sew well is an art to be admired and this skill should be easy to learn with this instructional series. The You Can Make It – Learn to Sew video, is an appropriate choice for beginners of all ages. It is an excellent teaching tool for 4-H classes, Home Economics classes, Home School use, or for anyone with a desire to learn the art of sewing. This video was reviewed by experienced seamstresses as well as those with no sewing knowledge. All agreed that the instructions given were easy to understand and to follow.
FEATURED ARTICLES
Sew News
Sew News March 96 – Business Basics – Cover Story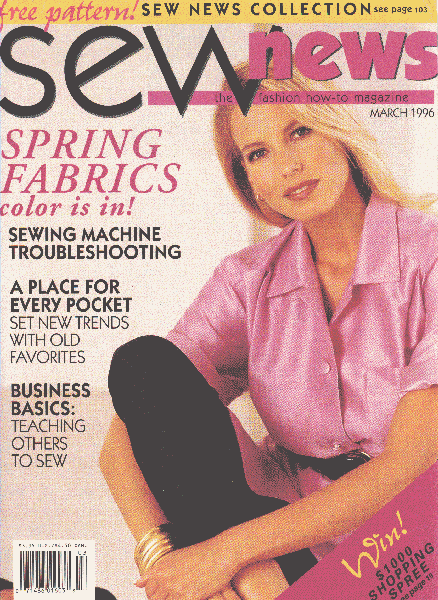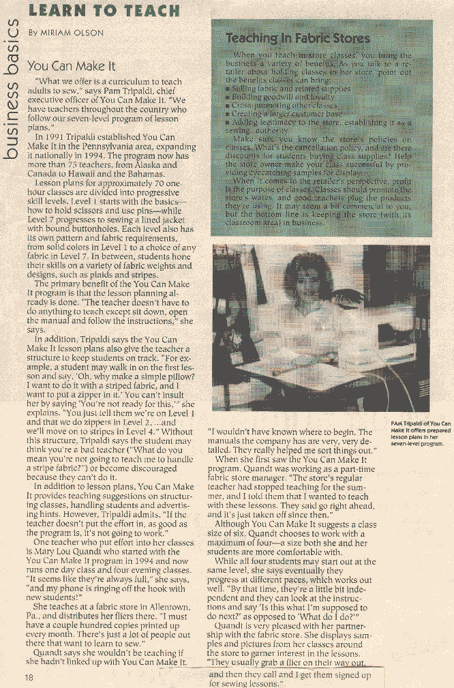 Reprinted by Permission-Copyright-1996 by PJS Publications, Inc. Peoria, IL